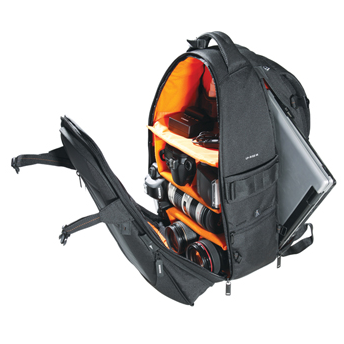 13 Jun

Vanguard Up-Rise 48 Camera Backpack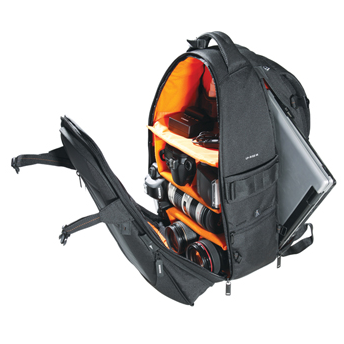 These days, the traveling photographer faces many obstacles. Perhaps the most important, is how to safely transport gear. Ask any #Tog who has traveled for a client and they will tell you that they never let their camera out of their sight. Yet, we've all been bumped to another flight only to arrive on that flight to see a full cabin and an attendant asking you to check your camera bag. Those with a large camera bag then face the uncomfortable prospect of heading to a shoot and not knowing whether their camera will arrive at their destination with them. Enter the Up-Rise 48 backpack by Vanguard.
The Up-Rise 48 backpack holds one DSLR camera with grip, three-four lenses, flash, tripod, accessories and a laptop computer up to 15." It does all of this in a comfortable, low-profile pack that easily fits in a small overhead compartment or stows under the seat in front of you.
The camera compartment contains numerous, padded velcro organizers, making it easy to configure for your specific lens and camera needs. I have been able to comfortably fit a 5D MK II with vertical grip, 4 pro lenses, a speedlite, filters and more. Plenty for a good day shooting! An included divider can be used to create space above the camera gear to store miscellaneous items. A small elastic mesh pouch toward the top of the compartment can hold CF cards, cable release or similarly sized items. It would be nice if there were more internal pockets here for securing and organizing these small, miscellaneous items. Unzipping the outer panel allows the pack to expand to accommodate an extra large gear load.
The laptop compartment sits between the wearer's back and the camera compartment. The compartment zipper runs the length of the pack and makes it a snap to slide your laptop inside (I use a 15" Macbook Pro). I was impressed – I could hardly tell there was a laptop in the pack, even when fully loaded to the brim with camera gear as well!
Asking whether comfort in a camera bag is more important than functionality is a tough one… and possibly dependent on age! That said, this pack is extremely comfortable. The suspension is composed of two beefy, well-padded shoulder straps opposed by a section of three pads. Called the "Air System" these three airways between these back pads are designed to increase backside ventilation. The pack is extremely comfortable. It feels snug and secure on my back – enough so to wear when mountain biking. The ventilation system seems to work well so far, but I may need to run this through some testing in the summer heat to be sure. A hefty, well padded handle on the top of the pack functions both for hand carrying, and even for wall hauling (I hauled this bag, fully loaded up a climb in Southern Utah suspended from the handle).
On one side of the pack, you'll find a small zipped compartment that houses the detachable rain fly. Just below the fly, a double-zipper wide-access point allows you to quickly get at your gear in the camera compartment.  A fastex buckle at the top of the zip prevents accidental opening and disaster. Once the buckle has been unfastened, a quick pull on the handle, or zipper pull will open the side of the pack, giving you direct access to the camera body and attached lens. This is a nice feature and makes the backpack function much like the one-strap slingshot bags that are so prolific today (with the added security of a second shoulder strap).
Conclusions:
The Up-Rise 48 camera backpack is a well-constructed mid-size bag perfect for the traveling photographer. It is comfortable and functional. Due to its low profile, it can fit in small overhead compartments, and even below the seat in front of you in a pinch. It is sizable enough to carry plenty of professional camera gear and accessories for a long trip at home or abroad. Gear is easily accessible and storing and removing your laptop is a cinch. The side pocket is handy for quick camera access. Although I would prefer there were more small pockets inside for organizing small loose items, I wouldn't hesitate to recommend this bag to enthusiast and pro alike.
Things I Love:
Solid construction (survived being rope-hauled up climbs in Southern Utah without any damage).
Very comfortable even when loaded with full photo kit.
Low profile makes it easy to store in overhead compartments on small planes.
Laptop slides into and out of pocket easily and is imperceptible while wearing pack.
Things to Improve:
Side pocket is narrow and is difficult to remove a camera with vertical grip.
Not enough inner pockets to organize CF cards and small items.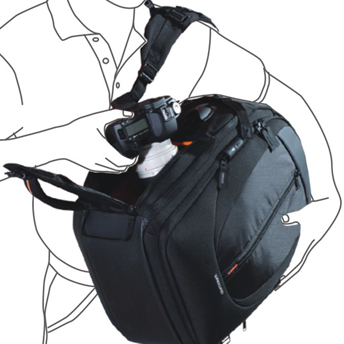 View more information about the product on Vanguard's website here.