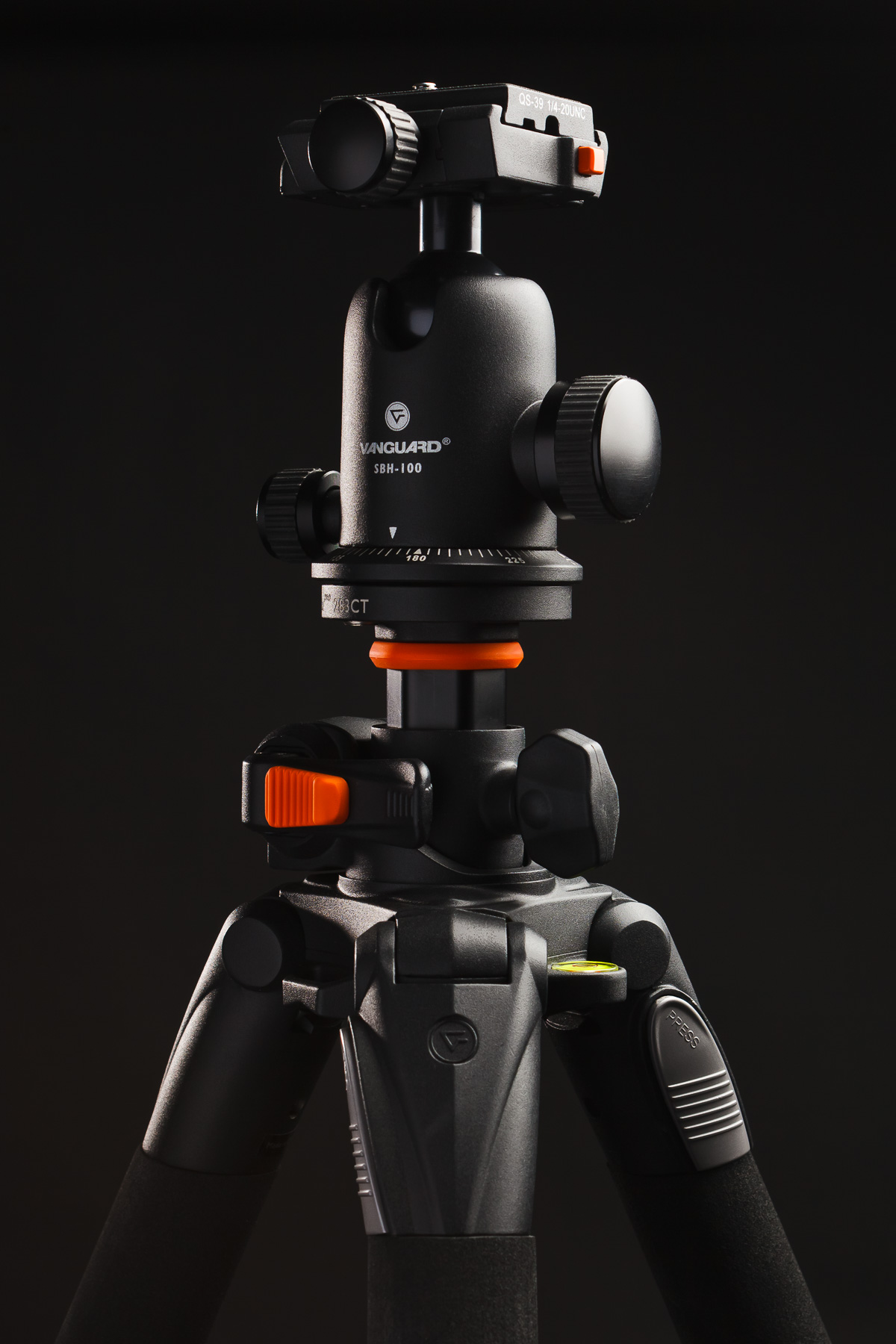 15 Jun

Vanguard Alta Pro 283CB 100 Tripod

My tripods have seen their share of abuse over the years, whether checked in airplane cargo holds or steadying my camera, chest deep in the ocean. My oldest Manfrotto tripod is almost like a travel valise, tagged with customs and security stickers from 17 years of travel around the globe. As much as I regret having to retire said travel companion, it seems I have found its replacement in the Vanguard Alta Pro 283 CB 100.

The Alta Pro 283 CB 100 is a package that includes the Alta Pro 283 CT carbon fiber legs and the SBH-100 fluid-ball head. The legs easily extend from quarter-twist leg locks. My Manfrotto tripods all have lever releases on the legs. That said, I adapted to the twist-locks quickly.  A built-in level makes positioning the legs easy in rugged terrain. Depressing thumpads on each of the legs enables them to be easily moved from 25 degrees all the way to 80 degree angles. The included non-slip rubber feet are easy on hardwood floors. If you need a little more bite, simply screw in the rubber feet a few turns and metal spikes emerge – nice.

The central column can be moved from a 0 degree angle to 180 degrees, allowing for ground level photography (in case you were planning on photographing ants…). My Manfrotto legs also do this. This is where I ran into my only snag. The Manfrotto center column is designed so that it can't be removed while rotating it on it's long axis. While taking my Altapro for a test drive, I rotated the center column with a 5D MK II and L lens attached. As I raised the column, I failed to notice the marking "stop here" (it was on the opposite side of the column). I suddenly found myself unexpectedly holding tripod legs in one hand and a center column with $5000 of camera gear attached in the other. Now that I am aware of this, it won't happen again. That said, it would have been nice if it were marked better, or some documentation about this included in the package.

The SBH 100 is an elegantly finished quick-release ball head. It utilizes a small mounting plate (ships with two – a nice feature) that snap into place and are then tightened with a locking knob. While a quick-release lever may be faster, I found this system to feel more solid. To release the camera, simply loosened the knob and then press the release button.  The position of the head is indicated by the degree marks on its base allowing for precise control when rotating horizontally – great if you are trying panoramic and want to return to your exact starting point.  There are two knobs on either side of the head. The smaller knob controls the lateral rotation while the larger knob enables the ball's fluid motion. Both knobs are easy to tighten and release – no need to lose skin cranking them down. They function almost like a fine focus, making it easy to find that sweet spot where motion in the ball head is possible, but the camera stays locked in place when the hands come off.
Conclusions:
The Altapro 283 CB 100 is an outstanding all-around tripod. Its full-size legs and solid ball-head allow for demanding professional work and for heavy pro lenses. Its light weight makes it a great travel companion (although a bit large). The build quality and functionality is outstanding. The three levels are a welcome addition that will rid you of your horizon problems – especially when the camera is close to the ground. The center column rotation could use some improvement – specifically to prevent it from popping out accidentally. That said, being aware of this problem will likely prevent this from happening. I would not hesitate to recommend this tripod! I look forward to covering it with airport security stickers from new adventures!
Things I Love:
High quality machining.
VERY lightweight – as light as smaller, travel tripods.
Levels on both legs and head make for easy horizon adjustments.
Locking knobs are smooth and make fine tuning position a snap.
360 degree markings allow for easy, accurate head positioning and panoramic.
Things to Improve:
Does not come with a warning that the center column can easily pop out when rotating along its axis. WARNING! Detach camera before manipulating the column axis!
View more information about the product on Vanguard's website here.