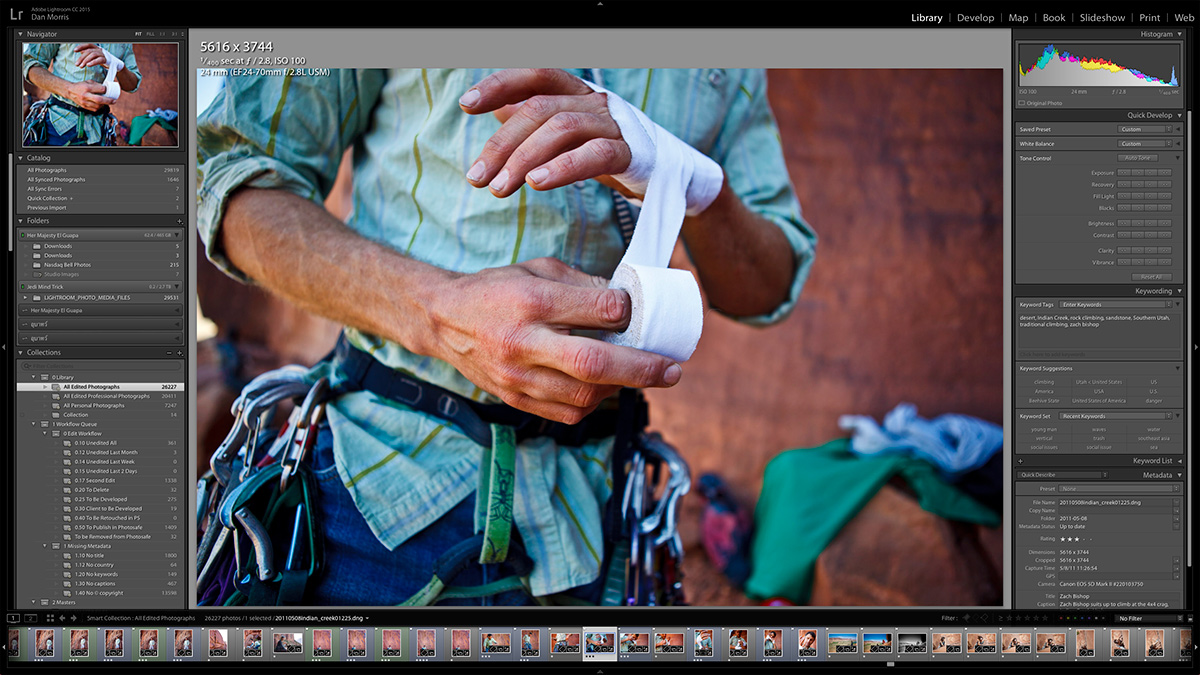 11 Aug

The Complete Lightroom Workflow
Introduction to the Complete Lightroom Workflow
Over the last few years, I have worked to develop a rating and labeling system that could be integrated into my complete Lightroom workflow. This workflow is based on research of several different photographers' workflows, including the Workflow Smart Collections by John Beardsworth.  You can download a Lightroom catalog containing my smart collections here (right click, and choose 'save as' to save the zip file to disk).  Download a trial of or buy Adobe Photoshop Lightroom here.
I designed this step-by-step workflow to help me manage my professional and personal photographs and video in one catalog.  All my photos and video, regardless of their origins (iPhone, 5D MK II, GoPro) are imported into this catalog.  I chose the "pick flag" as the basic editing unit. Unflagged images are considered unedited.  "Rejected Flag" images are to be deleted. Only images with pick flags will move on to the next workflow step (note that pick flags added in a quick collection are specific to the quick collection only!).
Once images have pick flags, they are further sorted with ratings. I have chosen the following standard for my catalog rating system:
★ = To Archive (images that I want to keep but not develop, i.e. multiples of a better shot that I want to archive for safekeeping)
★★ = Client Images to be Worked on (Images that I want to develop that are specific to a paid client shoot, i.e. images that the client would think are great, but I would not include in my stock library)
★★★ = Images to be Worked On (Images that I plan to spend time developing /processing in Lightroom, normally only images I think have a chance to sell.)
★★★★ = Outstanding Images (Truly great images.  Be selective!)
★★★★★ = The Very Best (your very best, portfolio quality images only)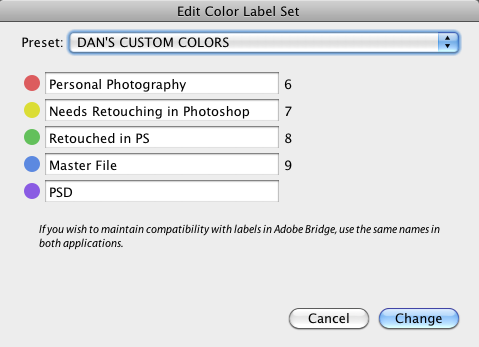 I have assigned color labels as follows:
Red = Personal Photography
Yellow = DNG/RAW files I intend to retouch in Photoshop
Green = DNG/RAW files that have been developed in Lightroom, are finished but have been retouched in Photoshop (Like negatives for master PSD or TIFF files)
Blue = Master images (Final, developed DNG/RAW master files that will not be retouched in Photoshop and all PSD/TIFF files that were retouched in Photoshop)
One should note that the color labels in Lightroom are actually derived from text labels embedded in your images' metadata. If you have already assigned the red color label "Unedited" to your images and then change the text assigned to the red label, your "red" images will lose their color label. If this happens, change the color label title back to "Unedited" and they will show the color label again!
The Complete Lightroom Workflow in Use
Once you understand the rating and labeling system, you are ready to import the catalog file you downloaded into your catalog.  In Lightroom, Navigate to "File –> Import from catalog."  In the subsequent dialog box, choose the Lightroom catalog file you downloaded above in this post.  Lightroom will add the smart collections necessary for this workflow to your catalog. You will note numbers in front of the collection set and smart collection names.  These allow for ordering of the smart collections and sets.

The Library collection set contains 3 smart collections.  "All Edited Photographs" (flagged, rating ≥ 1 star) is a quick way to see or search every photo in your library that has been edited. "All Edited Professional Photographs" (flagged, rating ≥ 1 star, label ≠ red) contains all edited photos, but excludes your personal photos.  All Personal Photographs (label color = red) is self explanatory.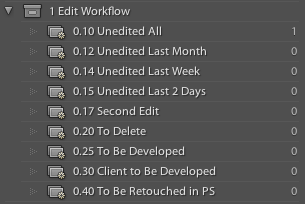 The Edit Workflow collection set contains 9 smart collections to help you manage your editing, developing and Photoshop retouching.  "0.10 Unedited All, 0.12 Unedited Last Month and 0.14 Unedited Last Week" (pick flag ≠ rejected, pick flag ≠ flagged, label color ≠ red) contain all images that have not yet been edited (there is an additional, obvious date filter in the latter two).  To make a first edit of your photos, select one of the "Unedited" smart collections.  Hit "Tab" on your keyboard to hide the develop panels in Lightroom.  Then hit "L" twice to darken the screen around the image.  Now you can hit "P" to assign a pick flag to an image or "x" to reject an image. If an image is not of professional value, only personal, hit the "6" key to assign the red, "Personal Photography" label. Any of these keys change the images unflagged state, and it is immediately removed from the "Unedited" smart collections.  This stage of editing moves very quickly.
Once you have finished your first edit, you can move on the the "Second Edit" smart collection  (pick flag ≠ rejected, pick flag = flagged, label color ≠ red, rating  < 1 star).  Here, I give images a star rating as delineated above by hitting the "1" key to the "5" key as needed.  Again, once you select a rating, the image is removed from the smart collection (I may also reject additional photos in this step).  The "To Delete" (pick flag = rejected) collection is perhaps a bit redundant, as hitting "command delete" will show all rejected images.  Still, it is nice to be able to review your rejected images before you delete them from the computer.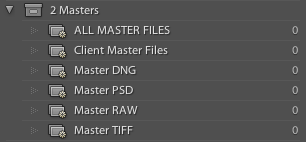 The "To Be Developed" (pick flag = flagged, label color = none, rating  ≥ 3 star) contains all images I would like to work on.  Once an image is developed, I decide if I wish to retouch it further in Photoshop, or simply make it a master file.  If I plan to retouch it in Photoshop, I hit the "7" key, giving it a yellow color label and sending it to the "To be Retouched in PS" (pick flag = flagged, label color = yellow, rating  ≥ 3 star) smart collection.  If I feel the photo is done and doesn't warrant Photoshop retouching, I hit the "9" key, giving the photo a blue "Master" label and sending it to the appropriate "Master File"  (pick flag = flagged, label color = blue, rating  ≥ 3 star, file type = ) collection depending on the filetype.  Here, the smart collections are organized by a filter that selects for file type.
The only tricky step in the complete Lightroom workflow follows from the "To Be Retouched in PS" collection.  Here, I can see all the images I plan to retouch in Photoshop. Right click on one image and choose "Edit in Photoshop."  This will cause Lightroom to generate a copy for Photoshop.  Once you complete your retouching in Photoshop, save the file and quit Photoshop.  In Lightroom, you will now see two versions of your image – one DNG/RAW (original) and one TIFF/PSD (retouched).  Select the original DNG/RAW file and hit the "8" key to give the image a green, "Retouched in PS" label.  Select the TIFF/PSD file and hit the "9" key to give it a "Master File" label.  Now, when you view the two files in the "All Edited Photos" smart collection, you will see the green original next to the blue, finished master file!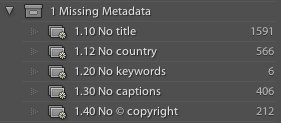 You will notice there are a number of other collection sets that are contained in this workflow.  The "Missing Metadata" set includes a series of smart collections that tell you when you have Master Files (blue label) images that are missing titles, keywords, country or captions. The Stock / Archive set contains smart folders I use to manage my content with stock agencies (feel free to delete these collections if you don't need them). The Photosafe set contains collections that pertain to the Photosafe Lightroom plugin by Jeffrey Friedl. This handy plugin allows you to "lock" your images so they can't be accidentally deleted from Lightroom.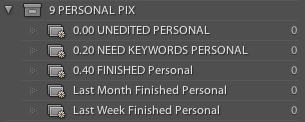 The "Video" and "Personal Pix" sets are pretty self explanatory.  I manage my videos much in the same way as the photos.  The personal photos are sent to the collection in the initial edit I discussed above.  Once the images have the red, "Personal Photography" label, they appear in this series of smart collections where I can assign ratings (I only use ratings on personal photos to identify the real stand outs). Once I give a personal photo a rating, it is considered finished. Usually, I just make sure the personal photos have keywords (so I can find them in the future).  The "Smart Collections" set is default with Lightroom.  I have not yet found a way to delete this set.  If you do, please let me know!
Donate
A great deal of time and effort went into creating this workflow and subsequent post.  If you enjoyed this post and find it useful, please consider a donation!  Any amount helps.  Thanks for reading!